Your invitation to a Sales Leadership Forum
Forum - What sort of Sales Leader are you?
This session will look at behaviour. In an environment where features and benefits and solution selling is just not enough, this session will explore what Sales Leader do.
The session will be facilitated by Ron Pollak and Ivan Cunningham. 
What are the 3 BIG issues that are stopping you achieve more sales? 
Know what? If you solved those three issues, three more would pop up. Tom Peters, management guru says that in today's erratic marketplace, "nobody has a sweet clue what they're doing. Therefore you better be trying stuff at an insanely rapid pace. You want to be 'screwing around' with nearly everything. Relentless experimentation was probably important in the 1970s—now it's do or die."
In discussions with Sales Leaders across Australia, we note that they are working longer hours than ever before. They are called on to support their sales team, more than ever before. They are working with less support than ever before. And, a host of other issues that make sales management more difficult than ever before. 
Tom Peters goes on to say that Managers need to spend 50% of their time in unstructured, higher-level tasks such as planning, strategising, team development and personal development activities. How will today's Sales Manager find an extra 50% of their time? 
September Session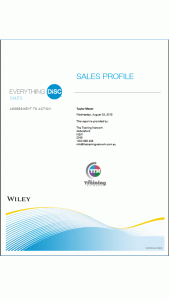 This session will focus on Relationships.  Attendees will learn about four DiSC Profiling tools and have the opportunity to participate in a Leadership 360 degree assessment.  
Session Fee is $75.
If you wish to take advantage of the Leadership 363 (360 degree) style Survey there is a 'special offer for attendees. Normally the Leadership 363 DiSC profile is $395.  Attendee Special Offer $195.
What is the Sales Leadership Forum?
The Sales Management Forum is a bi-monthly meeting of Sales Managers. It's designed to pack ideas and recent thinking into an hour and a half.  
Each meeting will commence with a half-hour presentation on a hot topic. This will be followed up with discussions in small groups, using a mix of structured topics and free-format 'sharings'.
 Sharings include: 
'war stories' 

successes 

market conditions & trends 

staffing issues; & 'musings'. 
Who should join the Sales Leadership Forum?
Anyone who is currently a Sales Manager, who wants to focus on answers to the following quandaries. 
Too focused on the day-to-day issues in your business? 

Need more time to understand today's industry directions? 

How do I get more from my sales team? 

How do I get more with less? 

Need to get into an environment that helps high-level thought processes?
Book NOW! Click here